1. So you'll have something to talk about with Natalie Portman.
2. And Kristen Bell.
3. And Ellen.
4. So you can say, "Hail Seitan" and not feel weird about it.
5. So you can begin some deep experiments with the mystical art of the tofu scramble.
6. To experience the heartwarming joy of hearing your grandma pronounce it "Vay-gun," as if you were an alien from the planet Vega.
7. So you can become a master of opening tempeh packaging …
8. … and an expert in the thousand different ways to prepare tempeh once you've managed to get it out of the packet.
9. To fully understand the mysterious equation that nutritional yeast makes things delicious in an exactly inverse proportion to how gross the name "nutritional yeast" sounds.
10. And that the same goes for Braggs Liquid Aminos.
11. So you can try that thing where you make a sandwich with tempeh bacon, vegetarian ground beef, soy sausages, vegan chicken wings, and a tofurkey deli slice and glory in the fact that no less than five different fake animals died for your lunch.
12. So you can know the secret truth about protein.
13. And experience the profound pleasure of saying this to someone: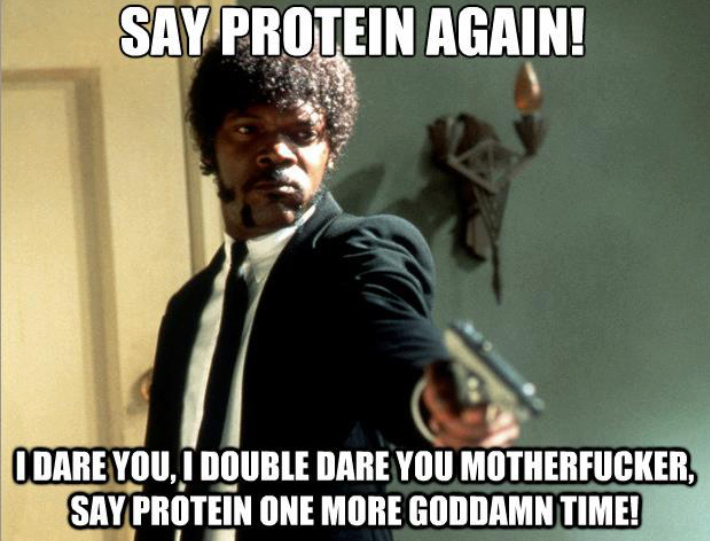 18. So you can learn the slightly unfortunate secret that a little bit of Vegenaise makes everything better.
19. To become ninja fast at reading complex ingredient labels.
20. To develop x-ray vision to scan menus for the hidden, secret vegan options.
21. And for identifying meat in buffet salads and sandwiches.
22. So you can help animals…
23. And feel pretty good about your relationship with the environment…
24. And lord it over everyone else until they hate you and don't invite you to parties anymore (don't do this).
25. So you can learn all the cool, secret vegan songs.
26. So you can begin to incorporate these surprisingly creative vegan smoothie recipes into your life.
27. And discover the insane versatility of the chickpea.
28. And eat your weight in hummus.
29. So you can pick a side in the veggie burger wars and defend your preference to the death from other vegans.
30. So you can discover the joys of vegetarian sushi.
31. So you can stop thinking about cholesterol.
32. And start thinking about vegan bahn mi sandwiches.
33. So you can start spelling animal names with weird apostrophes and stuff.
46. So you can find an opportunity to make this joke:
47. And plenty of opportunities to secretly find this joke funny:
48. So you can permanently opt out of the whole "LOL Bacon" thing the Internet seems to be oddly incapable of letting go.
49. So you can make Seitan en Croute for Thanksgiving.
50. And Jumbo Soy Nog Snickerdoodles for the Holidays.
51. And vegan nacho potatoes for the Super Bowl.
52. So you can get real familiar with the Veganomicon.
53. So you can feel like you're on the same team as these guys:
55. So you can experience cashew cheese.
56. And enjoy the thoughtful, supportive comment sections on websites where people mention veganism as a lifestyle choice (jk, jk).
57. And so you can eventually learn the mind-blowing, life-changing, world-expanding secret to the universe that they only tell you when you reach the highest level of veganism (Level 5).
Have fun, good luck!