See these 18 raised bed ideas for your garden. Raised bed gardening improves the productivity and decreases the labor.
If you want to significantly increase the productivity of your edible garden then grow plants in raised beds. It's simple: A raised bed is filled with rich, well-drained soil and it ensures better drainage. You can control the weeds easily and work more efficiently in the garden without sweating.
Raised Bed Ideas
1. Wattle Fence Raised Bed
You'll need long slender branches for this. Such as willow branches. Weave them between the stakes. Here these stakes are at a distance of about 45 cm from each other to create wattle fence walls. The inside of this raised bed wall is covered with burlap to retain the soil inside, you can also use garden cloth.
2. Raised Bed from Tires
However, no scientific research has been conducted but most of the gardeners believe that growing edibles in tires can be harmful. If you don't want to grow vegetables, grow other plants.
Also Read: Tire Garden Ideas
3. Brick Raised Bed
Construct a brick raised bed. Brick raised beds are easy to make and don't rot down like those of wooden ones.
Also Read: Ideas to Use Bricks in the Garden
4. Raised Bed with Wire Mesh as a Protection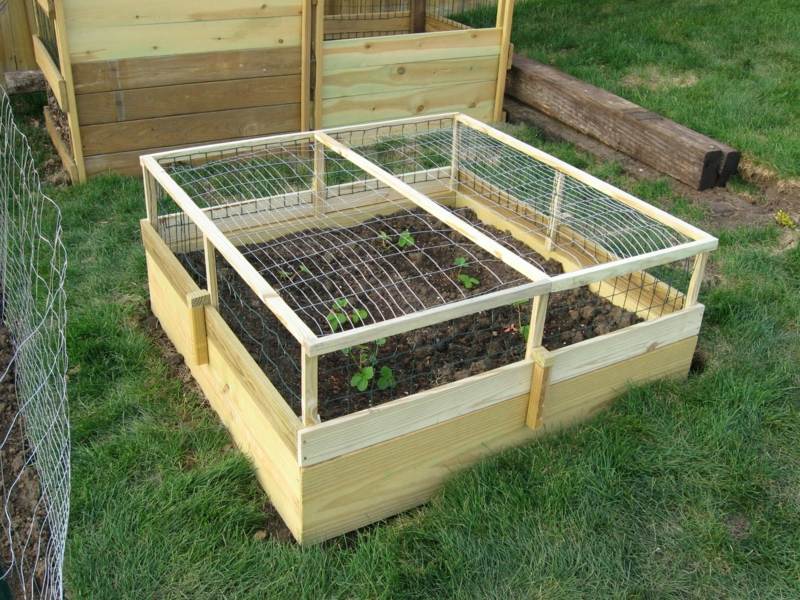 Birds, and sometimes cats and dogs can be a problem and to prevent them you can cover the raised bed with wire mesh or whatever you find appropriate.
5. Hay Bale Raised Bed
Certainly one of the best raised bed ideas to follow. Bale of wheat or alfalfa straws is used to create walls of raised beds. They decompose relatively quickly and provide nutrition to plants. You can read an informative article on how to make a straw bale raised bed on Bonnie Plants.
6. Concrete Blocks Raised Bed
Use concrete blocks to create raised beds, they are made from cement and are heavier than cinder blocks. You can download this PDF file of University of Florida to get more information on how to do this.
7. Sandbags (Earthbags) Raised Bed
If you have sandbags (if not, buy them at cheap rate from the market) fill them 1/3 with the garden soil and line them around the perimeter of desired raised bed. You can read the complete tutorial of this on gardeningknowhow.
8. Tree Trunks and Stumps Raised Bed
Stumps about 30 cm thick in diameter are perfect as walls for raised bed. Irregular stumps and logs can also be used. If you want to give your garden a unique look, this is an interesting idea.
Also Read: Tree Stump Ideas for the Garden
9. Cedar Raised Bed
White cedar or Western red cedar planks are ideal for making raised beds as they are weather-resistant and withstand well against pests. Such raised beds are much more durable than those made from other softwoods.
10. Jute Bags Raised Bed
Not exactly a raised bed but you can fill large jute bags or burlap sacks with soil and place them in the sunny and plant something you like. Probably potatoes, herbs, carrots. But remember that these bags will dry out fast due to the perforations and you will need to water more frequently.
Also Read: Growing Potatoes in Containers
11. Corten Steel Raised Bed
Make a corten steel raised beds to grow plants. Corten steel is a modern alternative to steel, which is more durable and low maintenance.
Also Read: Corten Steel Landscaping Ideas for Garden
12. Spiral Raised Bed
One of the most functional raised bed ideas. Make a spiral raised bed and grow herbs in it, you can also grow other plants and vegetables also. It's an efficient way to save the space. Check out our step by step tutorial here.
13. Raised Bed with Collapsible PVC Greenhouse
Make a raised bed with a greenhouse using PVC pipes. You can find a tutorial video of this onInstructables.
14. Gabion Raised Bed
Build raised beds from gabions. For this, you'll need to build gabion walls. You can read a helpful article here.
15. Logs raised bed
Raised bed with logs looks very rustic. It is almost free if you have logs in your garden. You'll need to set the logs on small poles driven into the ground to stop them from moving. To raise the height, you can stack more logs above each other and secure them together with the help of nails or wires.
16. Pallet Raised Bed
Make raised beds from pallets. You can read step by step tutorial on our site.
17. Corrugated Steel Raised Bed
Use corrugated steel sheets to make raised beds out of them for your garden. See a DIY article on Sunset.
18. Stones Raised Bed
If you have concrete rubble or large stones then make raised beds from them. It is an inexpensive idea, you can check out the tutorial on HGTV.